BRUUT! is a four piece instrumental group founded in 2009. The band plays all over the world and recently their latest release Zest on Excelsior Recordings. The sound of cheap East German organs, fat synth basses and synthesizers merge with hard grooves and electronics to finally blend together into a danceable whole. 
Maarten Hogenhuis – saxophones
Folkert Oosterbeek – keys
Thomas Rolff – bass
Felix Schlarmann – drums
WonderYears is the most recent collaboration between long time playing partner Jasper Blom and Felix. The music of Stevie Wonder is the soil of the experimental arrangements of this sax, bass and drums jazz trio.
Jasper Blom – saxophone
Sean Fasciani – bass
Felix Schlarmann – drums
In 2020 Felix Schlarmann got together with long term colleague and percussionist Modar Salama to develop a new project featuring Arabic Percussion, drums and electronics. Their music combines sounds and rhythms from all over the world with improvisations and soundscapes.
Modar Salama – percussion, electronics
Felix Schlarmann – drums, vibes, electronics
Perpetuum is a new project by Felix Schlarmann and Roman Rofalski, combining the musical worlds of electronic soundscapes and analog improvisation. All musical structures being used are subject to constant change, compositional cells expand in real-time into various dimensions.
Roman Rofalski – syntheziers, electronics
Felix Schlarmann – drums, electronics
The Millenium Jazz Orchestra is a 18 piece bigband conducted by Dutch arranger and composer Joan Reinders. The band released numerous albums and played with guest soloists as Seamus Blake, Lee Konitz or Kenny Wheeler.
Another new project performing original music from all three members, living in Berlin, New York and Amsterdam. The trio without bass encounters new areas of modern jazz by combining acoustic instruments with synthesizers.
Dennis Brandner – saxophone
Roman Rofalski – synthesizers
Felix Schlarmann – drums
Dziesmas is a brand-new project with Latvian singer Liva Dumpe, creating musical experiences in holy spaces, all based on the Baltic vocal tradition.
Liva Dumpe – vocals
Jasper Blom – saxophone
Sean Fasciani – bass
Felix Schlarmann – drums
The connection between saxophonist Dick Oatts and Felix Schlarmann goes back to Felix' early study years in  Amsterdam. Oatts would come to Amsterdam on a yearly basis being a guest teacher at the Conservatory. This new trio is the result of a long-term musical relationship.
Dick Oatts – saxophone
Steve Zwanink – bass
Felix Schlarmann – drums
This is Felix' open playground project with players from different corners of the Dutch jazz scene. Playing with this pool of musicians is Felix' first project to explore the territories of sounds, electronics and free improvisation in different settings. So far Felix collaborated with:
Bram Stadhouders – guitar and electronics
Nathan Wouters – bass and electronics
Wolfert Brederode – piano
Jasper Stadhouders – guitar and el. bass
Felix Schlarmann – drum, electronics and percussion
ADAMAS CIRCUS 
A brand new project with musicians from various backgrounds.
From Ancient Greek ἀδάμας, adámas means "unconquerable, invincible". But it also includes Amsterdam and Damascus.
It features composer, arranger and pianist Martin Fondse on electronics and synths and Syrian percussionist Modar Salama on traditional percussion and electronics. The surprising line-up features myself on drums and effects.
Martin Fondse – piano, synthesisers and electronics
Modar Salama – percussion and electronics
Felix Schlarmann – drums, electronics and percussion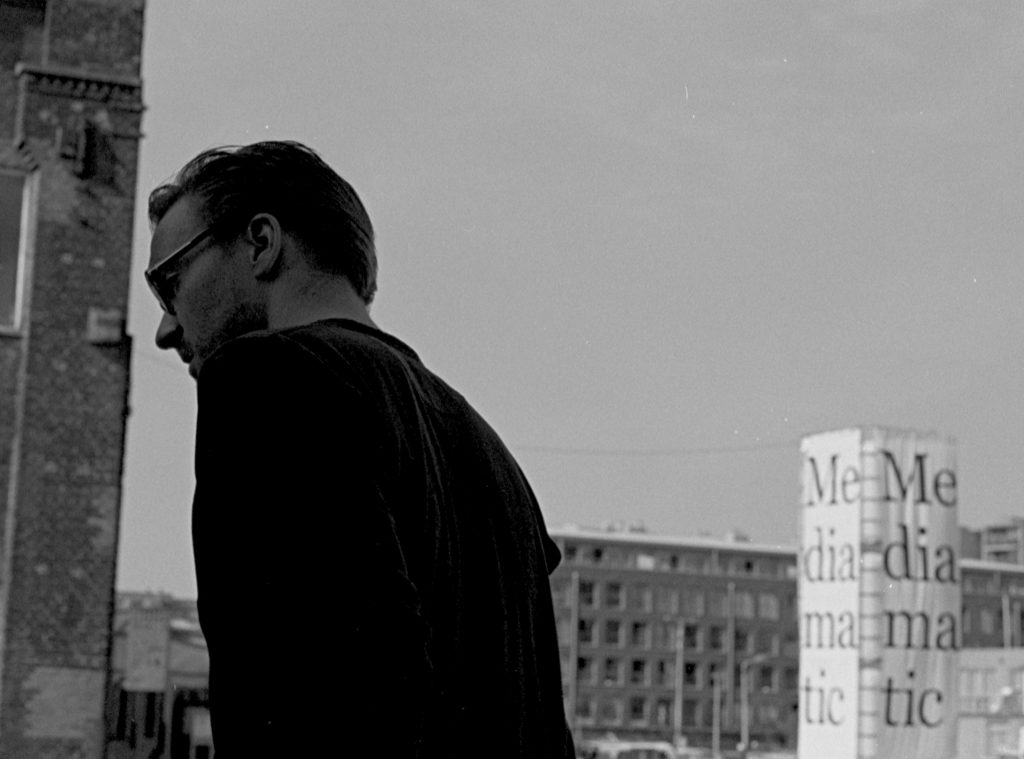 In  2014 Felix Schlarmann released Counterlife, his first album as a leader, on Challenge Records (NL).
Over the years he also focused on being a bandleader and composer next to playing with numerous other projects.
Maybe called modern melodic jazz, the listener probably will have to find his own way in order to place the music in between styles. Schlarmann's writing is influenced not only by jazz, since sound, energy and emotions are the most important parts of it.
Lars Dietrich – alto sax
Floris van der Vlugt – alto sax, soprano sax, bass clarinet
Franz von Chossy – piano
Pat Cleaver – double bass
Felix Schlarmann – drums, composition 
The Music Lab was a 7 piece ensemble lead by pianist and composer Philipp Rüttgers. The band released two albums.
'Rüttgers fires up his modern jazz ensemble with countless rhythmic changes and melodic twists, without becoming too excessive.' (Jazzenzo on the latest album Repetitive Mind).
Miguel Boelens – saxophones
Nils van Haften – tenorsax/bass clarinet
Allison Philips – trumpet
Kobi Arditi – trombone
Philipp Rüttgers – piano/composition
Tobias Nijboer – bass
Felix Schlarmann – drum
Franz Schubert's song cycle Die schöne Müllerin consists of moving, captivating and poetic songs for vocals and piano. In the audiovisual performance Liebeskrank these songs have been given a complete makeover by four singular musicians who formed the band Mechanical Duck.
Charles Hens – vocals
Jasper Blom – saxophone
Folkert Oosterbeek – hammond
Felix Schlarmann – drums