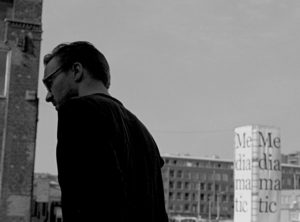 Drummer Felix Schlarmann lives and works in Amsterdam. His musical activities and interests go all the way from playing the drums in small and big ensembles to artistic impro projects using electronics.
Since more than ten years Felix makes part of BRUUT!, a band touring all over the globe and letting him appear on international festivals like the North Sea Jazzfestival, the Tokyo Jazzfestival or London jazz, amongst many more. Next to that Felix is an active initiator of projects as well as a sideman for numerous formations. Some current ensembles are the WonderYears trio with saxophonist Jasper Blom, a new collaboration with percussionist Modar Salama called Dialogues, an experimental project with German pianist and electronic music composer Roman Rofalski called Perpetuum, Joan Reinders' Millennium Jazz Orchestra, and a trio with American saxophonist Dick Oatts.
As a bandleader and composer he made his recording debut on Challenge Records already early in his career with his well appreciated album Counterlife.
Felix is part of the jazz faculty at the Royal Conservatory in The Hague where he teaches drums and jazz ensemble, but also is involved in research on creative processes and new learning concepts.
As a member of Splendor, an Amsterdam based collective of musicians and composers, Felix is involved in many crossover and impro activities.
Being a driven organizer within the Amsterdam jazz scene, Felix is the founding father and musical director of the highly acclaimed jazzfestival 'Jazzfest Amsterdam'. Also, he runs his monthly jazz series called 'Jazz in /K' at Amsterdam's venue Studio /K.
For Dutch online radiostation the Concertzender Felix curates the radio show JazzNotJazz. Compositions he wrote for classical percussion are published by the German Gretel Verlag.
Growing up in a musical family in northern Germany's countryside, Felix picked up the sticks at the age of 9. After a music driven youth not only playing the drums in rock and jazz bands, but also being a passionate classical percussionist, he finally chose jazzmusic as a career and moved to the Netherlands to study drums. Felix holds a master's degree in jazz drums from the Conservatory of Amsterdam. Beside that he studied with John Riley at the Manhattan School of Music in New York City.
During the years he had the chance to perform with great national and international artists like Dick Oatts, Peter Bernstein, Chris Cheek, Alex Sipiagin, Gilad Hekselman, Seamus Blake, Bert Joris, Cecil Bridgewater, Joel Frahm, Paul Bollenback, Ben van Gelder, Dave Douglas, Jesse van Ruller, Benjamin Herman, Tineke Postma, Ernst Glerum, Anton Goudsmit, Michael Moore, Jiggs Whigham, Deborah Brown, Luis Bonilla, Jay Anderson, Frederik Köster, Ack van Royen, Jasper van't Hof, Harmen Fraanje, Sam Most, Marco Tamburini and many many more…