Ladies and gentlemen, welcome to the website of drummer Felix Schlarmann. Hopefully you will find what you are searching for…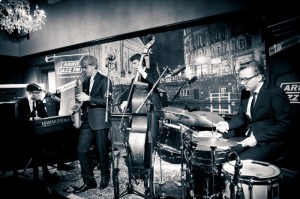 For me and the gentlemen of BRUUT! 2012 has been a busy year so far.
I am very proud to be part of this extraordinary powerjazzformation. Check us out on www.bruutmusic.com.
This groundbreaking group just released their first 13 track debut record 'BRUUT!' and a two track vinyl single on Dox Records! Visit our website to get a copy before they are sold out…
The Felix Schlarmann Group is still on track, too! New material, concerts and plans in 2012!
Another group I am working with is the Indie-Jazz/Singersongwriter group Køgging which released their debut-record 'Daydreaming' in 2011 and will tour Canada in April 2012. Get the record on www.kogging.com.
Mechanical Duck is a brandnew project together with musiclover / saxophonist Jasper Blom and musical brother Folkert Oosterbeek on Hammond organ. It features different guest artists and sees itself as a stylistic playground.
The Millenium Jazz Orchestra (www.millenniumjazzorchestra.nl) is a great Dutch Bigband I recently became a member of.