"Counterlife is a wonderful, melodic and introspective album." JAZZISM, NL
"A splendid debut." TROUW, NL
"Ghostly drifting, pastoral, hymnal." JAZZTHING, D
"A succesful and promising debut." JAZZPODIUM, D
"With his exceptional romantic debut album Felix Schlarmann releases a true jewel!"
SLAGWERKKRANT, NL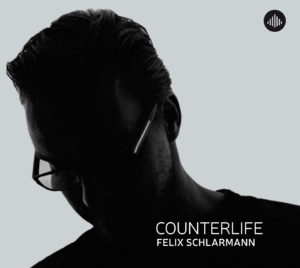 In  2014 Felix Schlarmann released Counterlife, his first album as a leader, on Challenge Records (NL).
Over the years he also focused on being a bandleader and composer next to playing with numerous other projects.
"This versatile drummer's music consists of fragile melodies and energetic explosions; an emotional sound filled with contradiction."
Maybe called modern melodic jazz, the listener probably will have to find his own way in order to place the music in between styles. Schlarmann's writing is influenced not only by jazz, since sound, energy and emotions are the most important parts of it.
The musicians in Felix Schlarmann's group belong to the rising stars of the young Dutch scene: Piano player Franz von Chossy created a name for himself all over Europe and beyond. Saxophone player Lars Dietrich earned his stripes, as part of the New York jazz scene, by working with many great musicians such as John Escreet and David Binney. Floris van der Vlugt worked with countless artists in the Netherlands and has just started his own young all-star septet "Windkracht 7". Young British bass player Pat Cleaver managed to become one of the most wanted players in the country, in just a few years.
"Beautiful and well played contemporary Jazz of the highest order" - David Liebman
Lars Dietrich – alto sax
Floris van der Vlugt – alto sax, soprano sax, bass clarinet
Franz von Chossy – piano
Pat Cleaver – double bass
Felix Schlarmann – drums, composition