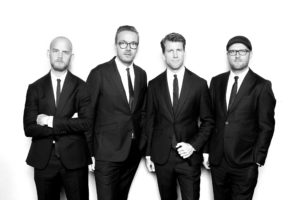 BRUUT! is a four piece instrumental Superjazz group founded in 2009. The band plays all over the world and recently released their 5th record. Raw Hammond sounds, hard grooves and sixties surf blend together into a danceable whole.
Maarten Hogenhuis – saxophones
Folkert Oosterbeek – hammond
Thomas Rolff – bass
Felix Schlarmann – drums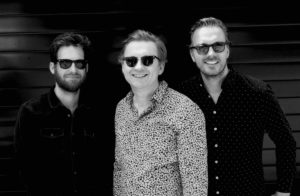 WonderYears is the most recent collaboration between long time playing partner Jasper Blom and Felix. The music of Stevie Wonder is the soil of the experimental arrangements of this sax, bass and drums jazz trio.
Jasper Blom – saxophone
Sean Fasciani – bass
Felix Schlarmann – drums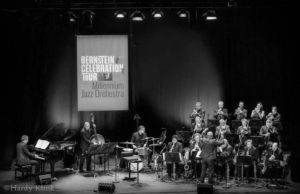 The Millenium Jazz Orchestra is a 18 piece bigband conducted by Dutch arranger and composer Joan Reinders. The band released numerous albums and played with guest soloists as Seamus Blake, Lee Konitz or Kenny Wheeler.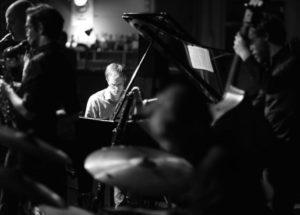 The Music Lab is a 7 piece ensemble lead by pianist and composer Philipp Rüttgers. The band released two albums.
'Rüttgers fires up his modern jazz ensemble with countless rhythmic changes and melodic twists, without becoming too excessive.' (Jazzenzo on the latest album Repetitive Mind).
Miguel Boelens – saxophones
Nils van Haften – tenorsax/bass clarinet
Allison Philips – trumpet
Kobi Arditi – trombone
Philipp Rüttgers – piano/composition
Tobias Nijboer – bass
Felix Schlarmann – drums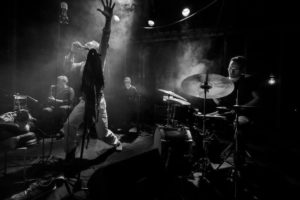 Franz Schubert's song cycle Die schöne Müllerin consists of moving, captivating and poetic songs for vocals and piano. In the audiovisual performance Liebeskrank these songs are given a complete makeover by four singular musicians who form the band Mechanical Duck.
Charles Hens – vocals
Jasper Blom – saxophone
Folkert Oosterbeek – hammond
Felix Schlarmann – drums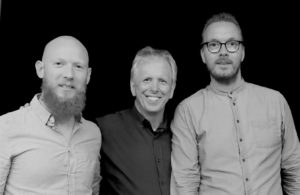 The connection between saxophonist Dick Oatts and Felix Schlarmann goes back to Felix' early study years in Amsterdam. Oatts would come to Amsterdam on a yearly basis being a guest teacher at the Conservatory. This new trio is the result of a long-term musical relationship.
Dick Oatts – saxophone
Steve Zwanink – bass
Felix Schlarmann – drums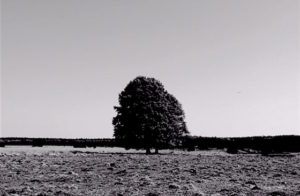 A fresh and open project with players from different corners of the Dutch jazz scene. This pool of musicians is Schlarmann's first project which explores the territories of sounds, electronics and free improvisation in different settings.
Bram Stadhouders – guitar and electronics
Nathan Wouters – bass and electronics
Wolfert Brederode – piano
Jasper Stadhouders – guitar and el. bass
Felix Schlarmann – drum, electronics and percussion